If you would like to submit an online estimate claim, please click the link below. 
If you would like to schedule an onsite or remote* estimate, please click the link below. 
*Remote (at home) estimates are available within Gallatin County only. 
You'll be taken care of like family
Ressler Collision Center has been part of the Ressler Motors family since March of 1999, and has been in business for over 40 years. We pride ourselves in taking care of our customers by performing quality repairs. Ressler Collision Center is a Direct Repair Facility for many major insurance companies; however we work with all insurance companies and repair all vehicle makes and models. We work directly with the insurance company to streamline the repair process for you. You can be certain that we will treat you with the utmost respect and provide a service like no other.  
Certified technicians
All of our body shop technicians are trained up on every model knowing the inner workings of each model. This means that your Cadillac will be taken care of with the highest level of care when it is with us. Whether it was a slight fender bender or running into a deer, we are able to help you with all of your body shop needs.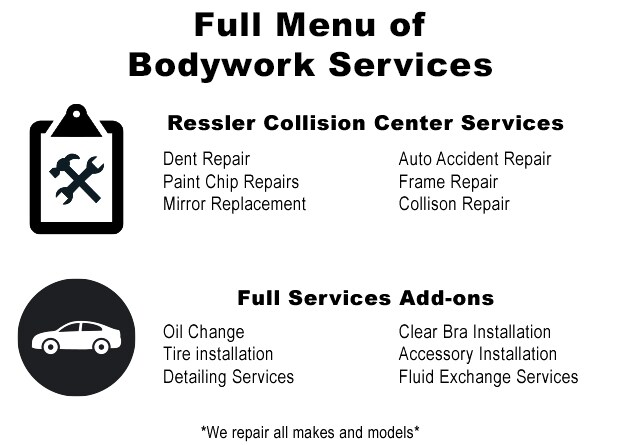 We are attached to a full service dealership. Please let us know if you need any additional services that we offer while your vehicle is here at Ressler. Some items we can add in are;
Detail services
Clear Bra application
Service Routine Maintenance 
Accessories installation
Rental Cars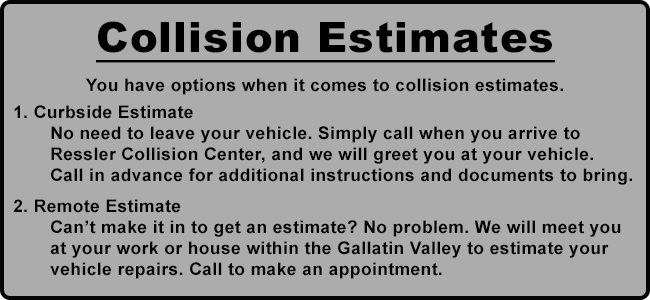 We are able to help create a collision estimate for your insurance company. This estimation is an approximation or prediction of the repairs needed to bring the vehicle back to like-new condition. During the teardown process we will check to make sure there were no additional damage or broken parts that may have been missed during the initial estimation. Any additional damage found will be shared with you and your insurance company to generate a complete repair estimate. 
Frequently Asked Questions
Q: What is the difference between my Collision Center estimate and my insurance company's estimate?
A: Our repair facility and you insurance representative will discuss the estimates and work together to ensure that quality repairs are performed on your vehicle.
Q: What if the Collision Center finds damage that was not included on my original estimate?
A: It is not uncommon for additional damage to be found on a vehicle after the repairs have been started. We will make a list of additional repairs needed, that are related to the accident, and submit them directly to your insurance company. The insurance company will review the supplement and pay us directly for the additional repairs.
Q: What if my vehicle is a total loss?
A: If your vehicle is considered a total loss your insurance company will contact you as soon as possible. Ressler Collision Center will hold the vehicle until it is released by you to your insurance company.
Q: What if I need a rental car while my vehicle is being repaired?
A: We offer rental vehicles at the Collision Center. If you are not at fault, you are entitled to a rental of like kind and quality to the one being repaired. If you are at fault please check with your insurance agent regarding rental car coverage. We offer a wide variety of vehicles to suit your needs. To reserve a rental stop in or call Ressler Motors/Toyota Rent-A Car 
What to Expect While Your Vehicle is in Our Care:
The total number of hours on your estimate determines the days of repair.
Example: 5 hours of repair is equal to 1 day in the shop.